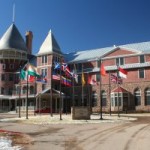 The United World College (UWC) is once again offering scholarships for Guyanese high school students with an authentic fervour and unyielding desire to advance their studies.
Four scholarships are currently available for students to study in Norway, Singapore, China and Costa Rica.
The deadline to apply is 18 February 2016.
The scholarships are needs-based and some cover all expenses.
Selected students would live in highly diverse campus environments, share a room with students from 3-4 other countries, and study the engaging International Baccalaureate Curriculum. This is an international high-school leaving qualification which is accepted for entry to the world's top universities.
Local representatives advise that selection will be done by the UWC National Committee Guyana and that selection is based on potential and commitment to make positive change, not on good grades alone.
To be eligible to apply, applicants must be a citizen or a permanent resident of Guyana for no less than three years; currently enrolled in a Guyanese high school or first year of university; age at least 16 on 1 September 2016 and self- motivated, inspired by UWC values, reasonably strong academics.
Last year four students were selected and are now studying at UWC. Kyle Joseph, a former Queen's College student is in Canada; Merissa Peterson, a former of Diamond Secondary is in the USA; Saif Panday, formerly of St Roses High is in Singapore; and Stephon Roberts, who attended Bishops' High is in China.
Students are asked to either uplift applications from their individual school headteachers or email the local body at uwcguyana@gmail.com for an electronic copy.
UWC has existed since 1962 and Nelson Mandela was former president of the board – his own children were educated at the UWC in Swaziland during apartheid.
UWC has 15 schools and colleges across five continents all with distinctive characters but sharing the same mission, ethos and values.