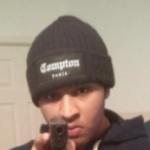 Georgetown: Two persons are in custody in connection with the disappearance of the British National 18 year old Dominic Bernard. There is also a shocking confession that police have allegedly received from the two prime suspects, his god-brother Aaron Hing, and alleged accomplice Stayman George. Hing, a 23-year-old British citizen living in Guyana, was captured on Friday in a City hotel, while George, also 23, was nabbed in Tucville. They were both held yesterday. Police arrived in the nick of time, since George was just about to enter a car, which was reportedly being driven by a woman. A postmortem, performed yesterday at the area where the corpse had been left overnight, revealed that Bernard was struck at the back of the head. He sustained a fractured skull, as well as a broken neck.
Police are to conduct DNA tests on the remains, for further verification of identity.
In their statement, the killers alleged that two days before Bernard arrived in Guyana, they rented a white Raum, and also dug a grave at Nurney, Corentyne.
Bernard arrived in Guyana on October 14, 2015. The killers picked him up at the Cheddi Jagan International Airport, and took him to a Sheriff Street restaurant where they ate and consumed beers.
It is then that they told Dominic Bernard that they had 'something' to show him that they had hidden in the Nurney, backlands.
At nightfall, and guided by the light of Dominic Bernard's cell phone, the killers and their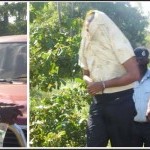 intended victim trekked to the backlands after arriving in Berbice.
They eventually stopped, and the suspects allegedly told Bernard to help them dig up the 'something' that they claimed they had buried.
When he bent to assist in the 'digging', they struck Bernard at the back of his head.
They recalled that he began to scream, and they clubbed him until he lay still. They then buried the body.
Afterwards, they reportedly took a quantity of British currency from the murdered teen's bags. It is believed that they also made off with photographic and other equipment.
There are reports that the killers went on a spending spree, even buying a motorbike in Suriname.
Bernard's relatives became worried about his whereabouts after several weeks passed and they had received no word from him.
During a recent press conference held at Cara Lodge, the teen's father, Andrew Bernard, said that this was his son's maiden trip to Guyana. He was supposed to be picked up from the airport by his God-brother, whom he was coming to spend time with.
Mr. Bernard stated that after his son failed to return home, he contacted his godson who claimed that he had not seen the Dominic and did not even know he had travelled to Guyana.
On Thursday, police, acting on reports that the missing teen had been spotted, searched locations in Berbice, Sophia and Timehri.
Around 13.30 hrs on Friday, detectives finally found Dominic Bernard's decomposing body in the grave in which his killers had buried him.
The ranks were reportedly tipped off some time on Thursday night that he had been slain and his body buried in the area.
They reportedly began searching the bushy terrain from as early as 08.00 hrs.
There are reports that the ranks were about to give up the search when they received a second call.
This caused them to intensify the search and the shallow grave, with its gruesome remains, was eventually found.