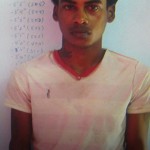 Berbice: Nineteen year-old, Nazamadeen Raffick aka Shazam of Bush Lot, West Coast Berbice and 18-year-old Gokun Paul aka Clown of Bath Settlement, West Coast Berbice appeared in the FortWellington Magistrates' Court before Magistrate Rhondell Weaver charged with the robbery and murder of a Berbice businessman and his wife.
The two men in their late teens were on Wednesday remanded to prison. They were not required to plea to the indictable charge of murder. The two accused were unrepresented in Court. They will make their next court appearance on February 3, 2015.
In one of the most shocking confessions in recent times, the teens recently related to police how they tortured, robbed and finally hacked an 81-year-old grocer and his 49-year-old wife to death at Bush Lot, West Coast Berbice.
The victims, Doodnauth Rajkumar and Dianne Chammanlall, who own a grocery and beer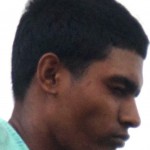 garden, were terrorized and repeatedly chopped, after the young robbers, all drug-crazed youths, broke into their Lot 93 'A' Bush Lot, Middle Dam, West Coast Berbice property early yesterday morning.
Mr. Rajkumar, with throat slashed from ear to ear, and with one arm partially severed, was found dead in the hallway.
Police reportedly found his wife, Dianne Chammanlall, badly injured and lying in the verandah of the two-storey home.
She succumbed while receiving medical attention at the Fort Wellington Hospital.