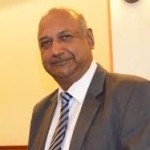 Georgetown: The Supreme Court of Guyana in collaboration with the Commonwealth Secretariat and the Commonwealth Magistrates and Judges Association will be hosting a two-day seminar which will focus on domestic violence in Guyana at the Marriott Hotel, Kingston, Georgetown. This seminar is an initiative of the acting Chancellor of the Judiciary.
Target groups for the seminar will include the Magistracy of Guyana, representatives of the Guyana Police Force and the Ministries of Public Health and Social Protection. According to Justice Carl Singh, acting Chancellor of the Judiciary, there was input at the planning stage of the seminar, from representatives of both of the above mentioned Ministries, the idea being to have a broad focus on the problem of domestic violence in Guyana.
A number of overseas persons will be in Guyana for the seminar, including Chief Justice Margaret Ramsay-Hale of the Turks and Caicos Islands, District Judge Shamin Qureshi from the United Kingdom, Mr. Mark Guthrie of the Legal Affairs Division of the Commonwealth Secretariat, Dr. Meena Shivdas, Gender Expert from the United Kingdom, Dr. Dianne Douglas, Clinical Psychologist from Trinidad and Tobago, Magistrate Kirsty-Ann Gunn, Cayman Islands. Ms. Karen De Souza, Gender Expert from Guyana will also participate.
The seminar will cover a wide range of topics which would stimulate the interest of all participants. On Friday 22nd January, 2016 the seminar will be preceded by an opening ceremony which will be addressed by His Excellency, President David Granger.