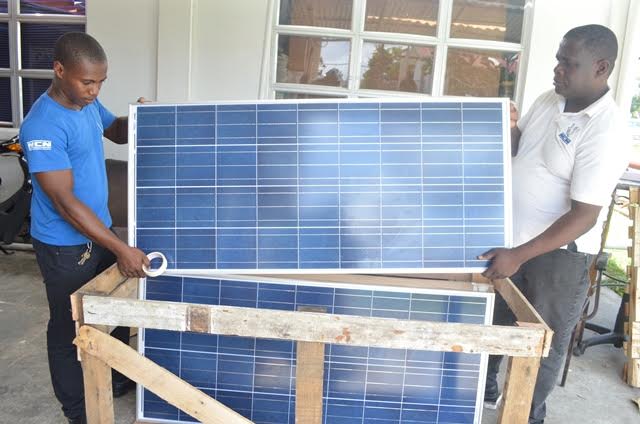 Georgetown : Guyana's only community radio station based at Bina Hill in Region Nine, Radio Paiwomak, is now on the air 24 hours a day. This is as a direct result of the recent installation of nine new solar panels with accompanying high-powered batteries.
Over the past 10 years a failing power supply system forced the lone community radio station to broadcast for only six hours daily. This had severely affected the service to Annai, Wowetta, Rupertee, Surama and surrounding communities. The radio station serves 65 communities.
In the medium- term this radio station's signals will be boosted to provide coverage to more than double the number of villages it now serves in the Rupununi area.
Prime Minister Moses Nagamootoo who has responsibility for the information sector explainedthat specific emphasis will be placed on the far flung interior communities in the Rupununi and the North West District.
Meanwhile this year, Guyanese can see an expansion of the radio and television reach as the government intends to ensure the establishment of more radio and television stations countrywide.
"We could use the radio and television as a force, not only to unite and inform people, but to harmonise our country so that everyone feels that they are part and parcel of the national trust, of the national effort, the national ethos, the national drift and that we promote a sense of national commitment in all parts of Guyana," the Prime Minister explained.
The name Paiwomak was derived from the names of the three communities it was set up to serve — the Pakaraimas, Iwokrama and Makrapan.
It was mandated to provide the local communities access to national news and current affairs, school broadcasts, programmes on the environment and sustainable development and other education and/or training programmes, including public information programmes from agencies like the EPA among other organisations and other relevant agencies.
Radio Paiwomak 97.1 FM is managed and run by the National Communications Network (NCN) in collaboration with the North Rupununi District Development Board (NRDDB). The radio operates under licence held by NCN.