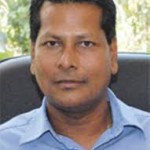 Georgetown: Government has named a new Chairman for the all critical Board of Directors of the Guyana Power and Light Inc. (GPL). According to Minister of State, Joseph Harmon, that person is Robert Badal, owner of Pegasus Hotel and the Guyana Stockfeeds Limited. He replaces Winston Brassington.
Under the previous administration, Badal has been outspoken about a number of issues, including state contracts and projects and cost of power.
He is closely aligned with the Alliance For Change, one of the main parties in the coalition Government.
GPL has been under fire for its management of the country's electricity supply and the distribution networks.
However, bringing down electricity theft and technical losses as well as corruption among staffers has been causing major problems.
There have also been questions about a number of large scale contracts, including the purchase of prepaid meters and transformers.
Minister Harmon also announced that prominent Attorney-at-Law, Stephen Fraser, is now the new Chairman of the Board of Directors of the country's main Port of Entry – the Cheddi Jagan International Airport.
CJIA is currently involved in a US$150M expansion of its runway and a modern terminal building to cater for bigger planes.
Named as Chairman of the Board of Directors of the Demerara Harbour Bridge is Shabeer Hussain.
At the prisons, a number of boards have also been appointed. Murray Greenidge will be the Chairman of the Guyana Prison Service Training Board; Dr. Simpson da Silva for the Guyana Prison Service Agriculture Development Board; Alona Sankar for the Guyana Prison Service Recruitment Board and Dr. Melissa Ifill for the Prison Service Sentence Management Board.
Managing Director of the National Milling Company Limited, Roopnarine 'Bert' Sukhai, will be heading the Firearm Licensing Board.
There have been allegations of corruption over the granting of firearm licences.
That Board will also include Dr. Bhiro Harry, Kim Kyte-John and Christina Jagmohan as members.