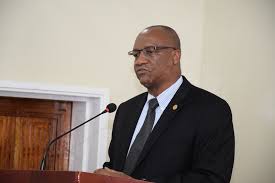 Georgetown : There has been no attempt by the Parliamentary Opposition to contact the Coalition Government to discuss the state of the sugar industry. This is according to Minister of State Joseph Harmon, as he addressed the press at the Ministry of the Presidency's media briefing today.
He recalled that when the Opposition was sworn in, in the National Assembly, an invitation was extended by President David Granger to them for discussions on areas of cooperation and collaboration. He explained that, "The Leader of the Opposition made it very clear where his cooperation would start and end".
It was stressed, by the Minister that the Coalition Government is, "always open to consultation and to cooperate with the Opposition, once they can bring on board ideas which will move this country forward, and we continue to be open to those ideas".
He added that if the Opposition Leader Bharrat Jagdeo has any suggestions or ideas for the sugar industry that are practical and not "purely political and emotional", then the Administration will be receptive. He also expressed the Coalition Government's interest in what the Opposition "will say" with regards to the COI report on the sugar sector which was laid before the National Assembly. The COI is before a Special Select Committee on Economic Matters.
The Minister of State expressed the hope that there would be "genuine consultation" with regards to the future of the sugar industry and one that has "the interest of the sugar workers at heart" and not just a "knee jerk" reaction. He stated that the issue should not become a political charade that is played out in the media before any actual meeting occurs.
"We are open to talking, and like I said, we want to see this country move forward, and we are willing to accept an invitation to meet with us or speak with us on the matter".