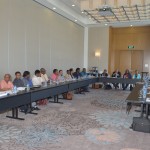 Georgetown: The Ministry of Natural Resources on Friday held its first Strategic Sector Review aimed at identifying the problems facing the various sectors and challenging managers to improve their performance in order to achieve maximum output.
The forum also stressed the effective delivery of services and the enforcement of the relevant regulations, which guide the operations of the various sectors. The review, which saw the active participation of Minister of Natural Resources Raphael Trotman and Minister within the Ministry of Natural Resources Simona Broomes, received presentations from the various agencies which fall under the Ministry.
At the end of the all-day forum the Ministry's management team compiled a final document from which excepts will be presented to a special Cabinet meeting today (Saturday) by Minister Trotman. At the forum the heads of the Guyana Geology & Mines Commission (GGMC), Guyana Gold Board and the Guyana Forestry Commission (GFC) which fall under Natural Resources Management made presentations on their respective agencies. Similarly, under the environmental management division the Environmental Protection Agency, Protected Areas Commission and the Guyana Wildlife Division delivered presentations.
Minister Trotman in remarks encouraged the sharing of resources, facilities and workload among the various agencies to maximize output. He stressed that there is need to "move beyond talking" while adding that the time has come for more young people to be trained in the sectors so as to get the "young generation involved."
Both Ministers Trotman and Broomes were particularly interested in the public perception of the gold and forestry sectors which for some time now have been dogged by allegations of corruption. Minister Trotman pointed out that the Government is very keen in improving the gold sector and he said the notion of "managing as best as we can" needs to be removed and better needs to be done. There is a perception, the Minister added, that there is some degree of corruption within the industry "and these are some of the things that concern the Government." "It is not good enough…" the Minister commented, adding that changes have to take place but admitted that "it will take time."
For her part Minister Broomes spoke on the issue of occupational, health and safety hazards- a major concern in the extractive industry. She urged that mechanisms be put in place to address these. The Minister was also concerned about the manner in which workers are treated in the mining sector and she stated that this is an issue that must be addressed by GGMC. Also of concern to Minister Broomes were the manner which some small miners are treated and the manner in which claims are verified by the Commission which at times is disadvantageous to the small miner. The Ministers pledged their commitment in ensuring that all of the agencies falling under their purview are improved since it is the mandate of the administration that all sectors move forward in creating a good life for all Guyanese.