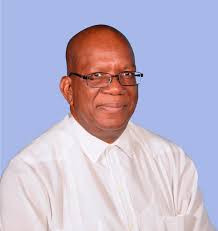 Georgetown : As the nation prepares for the presentation of the 2016 National Budget, Finance Minister Winston Jordan assured that it will focus on several critical areas. These include infrastructural development and wealth creation thus ensuring that all are on the path to a good life.
The Minister stated that the aim is to use the Budget as the first step towards removing those barriers as it relates to the country being viewed as just being a coastal city (Georgetown). "A lot of spending will be on infrastructure. We will retain our spending pattern in the social sectors particularly education. Hopefully this spending pattern will be targeted at an education sector that will be revamped".
Giving some more insight, Minister Jordan added that there will be measures to make the health sector more efficient, along with boosting the capacity and capability of law enforcement to better address crime and security. He also spoke of measures to improve the living conditions of public servants and pensioners. The Coalition Government, he reminded remains "committed to prudent management of the economy", hence this includes providing "affordable wages to public servants and adequate financial support to pensioners".
Responding to calls for "substantial wage increases for public servants and others", by former President and current Opposition Leader Bharrat Jagdeo, Minister Jordan proffered that such remarks are meant to "stir political conflict". He said that when the economy was on a firmer footing, for 23 years this was not done. "No substantial increases were granted to public servants and pensioners during this time". The Finance Minister further added, "You would appreciate that his government and successive governments had an opportunity to make those same substantial increases which they never did. Part was for obvious reasons; the economy could not have borne it at a time when it was far healthier than it is now".
The fact that the political opposition has recently claimed that the current economy is slumping, the Minister noted that this lends credence to his claim that they are just grandstanding. He added, "If they could have paid substantial salaries to public servants, how do you pay substantial salaries when by their definition the economy is slumping? Where do we get the money from?"
The Finance Minister was also asked about the Private Sector's call for fuel prices and electricity costs to be reduced to reflect falling fuel prices on the international market. He responded that any decision with regards to these calls must be "carefully thought out". He explained that once the prices are lowered, it becomes difficult to revert to higher amounts when circumstances change. "We don't have the mechanism to ensure that once the VAT or whatever prices are reduced that others will benefit. The only place that may be so is GuyOil (Guyana Oil Company)".
Pressed about a possible reduction in taxes, Minister Jordan said that none will be reflected in the 2016 Budget. He noted that whilst the Tax Reform committee had submitted a report and recommendations, on December 18, 2015, some of these measures are "in sync" with what Government has considered and may be implementing already. He declined to give more details however.
The initial Budget presented by the Coalition Government, on August 10, 2015 and themed 'A fresh start to the good life in a green economy', totalled $221 billion.