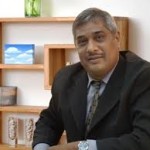 Georgetown: At its 171st meeting held today, January 21, 2016, the Governing Board of the Guyana Revenue Authority (GRA) took a unanimous decision to terminate the relationship between Commissioner General Mr. Khurshid Sattaur and the Revenue Authority.
This decision will take effect on March 1, 2016. A press conference has been scheduled for Friday January, 22, 2016 at 10am in the Agency's Training Room to further discuss this development.
Acting Commissioner-General, Ms. Ingrid Griffith will continue to function in the position of Commissioner General until further notice.