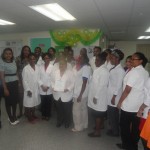 Georgetown: The Guyana National Bureau of Standards (GNBS) recertified the GPHC Laboratory under its Laboratory Certification Programme after the laboratory continued to meet the requirements of the Guyana Standard (GYS 170) – General requirements for the operation of a Laboratory. On Friday, January 22, 2016, the renewal certificate was presented by Ms. Evadnie Enniss, Executive Director of the GNBS to Dr. Pheona Mohamed, Laboratory Director of the Hospital.
In addressing the staff members of the laboratory at the simple presentation ceremony, Ms. Enniss emphasized the importance of operating a certified laboratory. She encouraged them to continue to do what is required to keep the certification. The Head of the Bureau also ventured further to challenge the staff of the laboratory to begin to work towards Accreditation to the ISO 15189 Standard, which is recognized internationally.
Meanwhile, Dr. Mohamed in her remarks to the gathering was delighted that the laboratory is once again able to attain recertification to the National Standard. She expressed her gratitude for the support provided by the GNBS and the commitment of her laboratory staff in realizing the achievement.
Through its National Laboratory Certification programme, the GNBS determines whether laboratories involved in testing, measurement and or calibration activities are satisfying the criteria outlined in the National Standard.
Laboratories which conform to the requirements of this standard are provided with formal recognition that they have implemented a laboratory management system, thus providing quality assurance for customers as they identify and select reliable testing or calibration services to meet their needs. GNBS also carries out surveillance and monitoring activities during the period of certification to ensure that laboratories are maintaining the system.
The recertification of the GPHC Laboratory has kept it among the group of certified medical laboratories in Guyana which includes St. Joseph Mercy Hospital Laboratory, Eureka Medical Laboratories, Dr. Balwant Singh Hospital Laboratory, Medical Arts Centre Laboratory, Georgetown Medical Centre, Quest Medical Centre Laboratory and Woodlands Hospital Laboratory. Uncertified laboratories that are interested in becoming certified can approach the GNBS which is always ready to assist them to implement a management system and become certified.