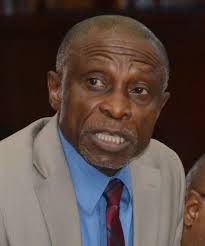 Georgetown : Foreign Affairs Minister and Second Vice President Carl Greenidge is currently leading a team to Haiti where the 21st Ordinary Meeting of the Ministerial Council of the Association of Caribbean States (ACS) is underway.
Guyana, a boundary nation of the Caribbean Sea, will be joining its Caribbean counterparts in extensive dialogue on the Sea's sustainability, as well as the outcomes of the Symposium of the Caribbean Sea Commission which was held in November, 2015 in Port of Spain, Trinidad and Tobago.
On the agenda too, will be the election of the sixth Secretary General of the ACS, while delegates will consider the recommendations for the term extension of the association's Directors of Sustainable Tourism and Trade Development and External Economic Relations.
Ministers and Heads of Delegations will discuss in depth the conclusions and recommendations resulting from the symposium, and will take joint decisions for the continued strengthening of the protection and preservation of the Caribbean Sea.
The Meeting will further consider a proposal by the delegation of the Republic of Cuba to host the 7th Summit of Heads of State and/or Government of the ACS during the first semester of 2016.
Decisions will be made for the appointment of the Executive Boards of the Ministerial Council, Special Committees of Trade Development and External Economic Relations, Transport, Sustainable Tourism, Disaster Risk Reduction and Budget and Administration, as well as the Council of National Representatives of the Special Fund for the period 2016-2017.
Delegations will also examine recommendations put forward regarding the possible acceptance of the request of Belarus to become an Observer Country of the ACS, as well as that of the International Organisation for Migration as an Observer Organisation of the ACS.
The ACS is the organisation for consultation, cooperation and concerted action in trade, transport, sustainable tourism and natural disasters in the Greater Caribbean. It is a product of the desire of the 32 contracting states, countries and territories of the Greater Caribbean to enhance cooperation within the region. It is an initiative aimed at building upon obvious geographic proximity and well-documented historical linkages.
Its framework provides a forum for political dialogue that allows Members the opportunity to identify areas of common interest and concern that may be addressed at the regional level, and the solutions for which can be found through cooperation.