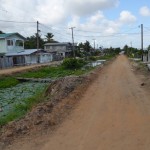 Georgetown: As the first component of the Sophia 'Ring Road' Project nears completion, the Ministry of Public Infrastructure believes that community input is a necessity for the project's success on all fronts.
During a recent visit to the Sophia area to assess the works underway, this message was relayed by the Ministry's Community Coordinator, Neilson McKenzie.
During this visit, McKenzie interacted with a member of the Sophia Community Development Committee (CDC). The first site visited was in 'A' Field where at least one home had been removed from the reserve to facilitate works. The homeowner explained that he understood the necessity for such a move to be taken since, ultimately, it was for the development of the community. The area is one that has been earmarked for a new bridge.
According to McKenzie, the necessity for homes to be removed from the dams had been relayed to homeowners by the Ministry, thus eliminating any conflicts or confusion. McKenzie also stressed that greater community participation is a must. He said the Ministry has been talking with residents, especially those on reserves and this process is going apace but must be intensified.
"They have been cooperating with us because they too see the need for development," McKenzie explained.
Currently, McKenzie said, the Ministry is in the process of setting up a meeting with the community to sensitise residents on the project. This interactive session is being planned with collaboration from the CDC.
"We want to interface with all of our communities; we don't want any confusion. We want people to understand how and why we are doing what we're doing. That's very important. We've got to work hard in hand to ensure that everything comes together," McKenzie stressed.
The Ring Road Project will be extensive and cover the areas known as Liliendaal, Pattensen, Cummings Lodge, and Turkeyen. The project will extend from 'A' through 'E' Fields, Sophia. The main aim is to create necessary accesses for the evolution of the community. McKenzie stressed that he desires a holistic community.
The project will also see the creation of bridges, conduits, and culverts. Guyana Water Inc. (GWI) mains will also be relocated to facilitate works.
Meanwhile, the project's first component is slated for completion in early May but it is expected that this component will be completed before then.