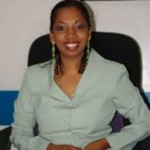 Georgetown: State-owned National Communications Network (NCN), Chief Executive Officer Molly Hassan resigned Monday. Under the APNU/AFC administration, Hassan issued a statement defending her integrity and performance. Hassan, who was a senior marketing executive at Courts, was appointed by the previous People's Progressive Party Civic administration. Meanwhile, veteran journalist, Enrico Woolford is touted to take up the position however; sections of the NCN board of directors are divided over whether Woolford should take up the position. Reports also reveal that Human Resource Manager, Daren Khan, may be sent packing and is to receive his dismissal letter today. Hassan in defending her appointment and salary of close to GUY$1M plus a vehicle and driver said that she was asked to manage a badly wounded company and put down her achievements since taking up the post, as optimising employees' output and improving the management and overall functioning of NCN. Hassan said the ills affecting the company were there before she joined.
She denied that the board could be dissatisfied with her performance, since the board has never met and has not conducted a performance appraisal with her.
Hassan said her monthly pay packet, including a fridge allowance and a personal tea allowance, is no different from what was enjoyed by any of the CEOs of NCN including her predecessor, who acted in the capacity of CEO for two years after the substantive CEO had resigned.
Meanwhile, last year the Directors of the Guyana National Newspapers Limited fired their General Manager Michael Gordon and former Editor-in-Chief Mark Ramotar on December,1,2015.
The Board of Directors noted that it had taken the decision with a view to strengthening both the administrative leadership and management and the editorial department as the newspaper seeks to rebrand and reposition itself as a credible national newspaper.