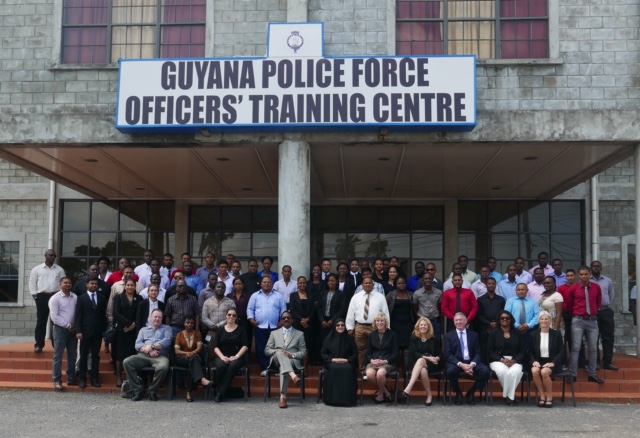 Georgetown : The Honourable Minister of Legal Affairs and Attorney General, Basil Williams, and Canadian Chargé d'Affaires, Sharmini Poulin, visited the Police Training Centre today to meet with police, police prosecutors and state prosecutors who are being trained under the Canadian funded project "Strengthening the Guyanese Criminal Justice System".
The Government of Canada, through its Anti-Crime Capacity Building Program (ACCBP), is providing funds to Canadian NGO, theJustice Education Society (JES),to implementthis project over two years to the tune of CAD $750,000 (GYD $106 million). This is Canada's largest bilateral project with Guyana.
The goal of the JES project is to develop the technical capacity of the police, police prosecutors, state prosecutors and magistrates to collect, analyse and present forensic evidence as a means of decreasing impunity rates. The JES team has been visiting Guyana since September 2015 and has commenced training activities with the Guyana Police Force on Major Case Management, Forensic Video Analysis and Crime Scene Management.
JES is a Canadian non–profit organization with an impressive record of improving the effectiveness of justice systems in Canada and around the world. The JES program in Central America has resulted in increased efficiency of criminal investigations, greater collaboration between institutions and reduced impunity rates.For example, in Guatemala, between 2009-2013, the conviction rate for violent crimes increased from 5 to 29 percent.
The project is being implemented in collaboration with the Ministries of Public Security and Legal Affairs, as well as the Office of the Chancellor of the Judiciary, the Office of the Director of Public Prosecutions and the Guyana Police Force. Chancellor of the Judiciary, Carl Singh, has visited the trainings in session and noted the "tremendous value" of targeting the police prosecutors, state prosecutors and the magistrates. Director of Public Prosecutions, Bibi Shalimar Ali-Hack, has attended training sessions and has praised the JES for the timeliness of the intervention and for "the wealth of knowledge imparted".
Minister Williams reaffirmed the Government of Guyana's commitment to strengthening the administration of justice in Guyana and thanked the Government of Canada for its ongoing support.
Mrs. Poulin noted that this project is an important part of Canada's contribution to strengthening the rule of law in Guyana. While observing that access to a competent and fair justice system is a fundamentalhuman right. Mrs. Poulin reaffirmed Canada's commitment to working to strengthen national justice systems in the region, by sharing Canadian expertise, improving access to and efficiency of the justice system, and providing training and mentoring programs for both police and justice officials.