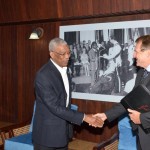 Georgetown: Australian High Commissioner to Guyana and Caricom, resident in Trinidad and Tobago, Mr. Ross Tysoe, AO, today, paid a courtesy call on President David Granger at the Ministry of the Presidency, where discussions centred on potential areas of investment and both countries' consensus on the need to lessen the adverse effects of climate change.
In an invited comment, the diplomat said that this is his first meeting with President Granger and Australia believes that Guyana has great investment potential and a shared interest in minimising the effects of climate change.
"Australia has been experiencing very devastating bush fires in levels that have never been experienced before and so we discussed areas of collaboration and the building of institution-to-institution links on climate change among other issues," High Commissioner Tysoe said.
He also noted that with the election of Baroness Patricia Scotland, who has Caribbean roots, as the new Secretary-General of the Commonwealth of Nations, it is expected that the bilateral relations between Guyana and his country will be improved in the coming days.
"In terms of investment, we believe that there are good opportunities in Guyana for Australian investors, particularly in minerals and [possibly] in agriculture, in years to come. So we will keep the relationship bubbling along," he said.
Last September, the High Commissioner paid courtesy calls on then Minister of Governance, now Minister of Natural Resources, Mr. Raphael Trotman, Minister of State, Mr. Joseph Harmon and also participated in discussions on a number of issues, including border security, territorial sovereignty and gun amnesty, with Minister of Public Security, Mr. Khemraj Ramjattan.