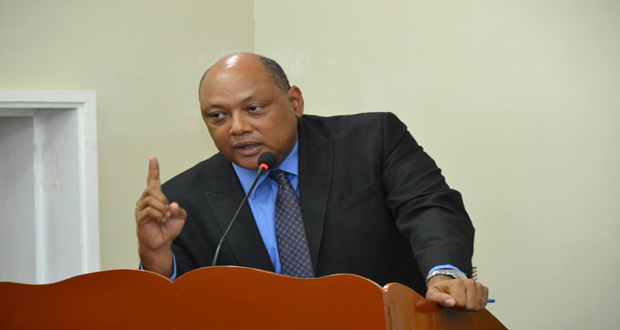 Georgetown : As part of on-going efforts to improve the safety and sustainability of miners, a programme will launched to have them certified. Minister of Natural Resources Raphael Trotman said today, that this move aims to improve the safety of those who earn a living through mining activities.
The loss of lives by those in the mining sector is of major concern to the Coalition Government, he said. He recalled the mine collapse which claimed the lives of 11 miners at Mawasie Creek, Mahdia sub-region. This incident which occurred soon after the Coalition Government took office raised serious concerns about the sector.
Minister Trotman explained that the aim is to have the Guyana Geology and Mines Commission (GGMC) develop a mandatory training programme for those already involved, and for those entering the mining sector. All persons will be certified, according to Minister Trotman. "Before they are allowed to mine, they will be trained in first aid, as first responders". In nine out of 10 times where these mining pits collapse or accidents occur, the Minister noted that there is not any ambulance or medical facility nearby, "and so just the recovery of these persons could be the difference between life and death".
The aim of the Ministry is to make it mandatory for these persons to be certified in the maintenance and construction of mining pits, the Minister added. "Of course in case of an accident which we hope there are few to none, that they (the miners) are trained in the recovery of the bodies or the person. At that time it is still a rescue and recovery operation, and stablising and transporting them to either a Health Hut or Regional Hospital".
Mining operators will also be given training in the financial aspects in managing mining operations. Minister Trotman said that too often, miners borrow financing from banks or institutions such as the Institute of Private Enterprise Development (IPED) and are unable to repay their debts. "They will take an excavator and after four or five payments, they are unable to continue payments". He emphasised that while some of difficulties were as a result of the downturn in mineral prices, many were as a result of poor financial management, "Basic accounting, how to plan, how to put aside for depreciation, how to ensure what bills are paid first and so forth".
A compliance unit is being set up to ensure miners are certified, it was explained. The unit will operate in conjunction with the Inspectorate Division and assist all the agencies within the Ministry, the Minister said. "These include the Protected Areas, the Wildlife Division, and Forestry etc. This will be a ministerial function and they will go to check all areas".
The incoming Board of the GGMC will be mandated to make this certification training a priority before the end of 2016.