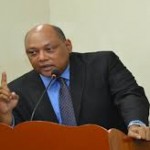 Georgetown: Recapping his initial six months in office, Minister of Governance, Raphael Trotman described it as challenging and a "trying, difficult process of bringing things in order".
He likened what was inherited as, "disorder, not only in (the) mining sector and forestry, but in other places". He praised his staff as willing, adding that they were all working to pull things together.
Mining
With regards to the mining sector, Minister Trotman said he, like many others, viewed the industry with a "sense that things were not right" despite the glamour and glitz that is often associated with it. He noted that there were all kinds of anecdotes such as "bribes being paid, small miners being run off land, and processing of papers taking weeks to instead of being done in days".
With more than 451,000 ounces being declared, surpassing the yearly target, he said that mining remains lucrative, but regulation and management of the sector need improving. "We are taking steps to improve not just the substance but the image of the mining process".
Minister Trotman revealed that a few weeks prior, it was brought to his attention that it was being inferred that his signature to approve duty-free concessions for miners, was worth some US$3,000. He stated, "I discovered this and it was quite a shock. These are things we are chasing down and if need be, the police will have to be brought in".
He emphasised that order will be brought to the sector, noting that, "It's not going to done overnight, but it is a process that is going to be done, and we are going to see it through in 2016". Corruption remains a challenge and no effort will be spared in "keeping it down", the Minister said, "It is not easy as even when you have dealt with A, C and D are going to pop up somewhere".
He said that major focus is being placed on the affairs of small miners to ensure that they too have a, "fair share at the pie". He added that their plight is one that has resonated with him. "They come here and some of them are literally in tears. Many of them are very frustrated and some of them, I can see, have been pushed to their limits. I can see some of them either contemplating suicide or even murder because they just feel pushed".
The lager operators in the sector will also be catered for, he noted. He named Aurora and Troy Resources as two investments, of several in the sector that were welcomed, "We will make sure they are happy too, and that they function well here".
The two companies are a boost to the local economy with the creation of jobs, capacity building, technology transfer and cascading benefits. Guyana stands to benefit from what Minister Trotman described as better deals with regards to the multi-million US dollar investments. "We want to make sure that taxes are paid. They respect the workers' rights. They paid their benefits. Their mining practices are safe". Government has taken a "hands on approach" and there are regular visits to the investment sites, he added. "We have been on the ground. We are quite impressed with the technology being brought to bear. We are impressed with the fact that Guyanese are getting jobs. We are impressed with their shipments and they are paying their royalties on time so thing are working out, and we are paying close attention".
The fact that mining will disrupt the environment is a given, and government is moving to ensure that the mining sector lessens its impact according to Minister Trotman. He said, "We have got to ensure that it is done to a minimum with improved mining techniques so that we can recover more gold from mining locations, rather than have a multiplicity of spots. You might recover 40% from this hole and then move on, when a technique that would actually give you 70 to 80 %".
The restoration of mining sites is also a cause for concern and strong action will be taken, in this regard, Minister Trotman said, "Miners mine and they move on. The rivers get polluted and there are gaping holes left in the land, and there is an Environmental Bond that is only $100,000. We will be reviewing that". Miners will soon pay a bond that is more realistic and commensurate with their action scope and size of operation, he explained.
Mining will also be done in the future in zoned areas and not in a capricious manner, the Minister said.
Staff efficiency will be improved to better have them serve the stakeholders and this, Minister Trotman said, will boost the sector. "Maybe with some training which we want to improve on, and with a little more encouragement, we could move to about 80%. Yes more staff may be needed, but we will get greater potential from the existing staff". Staffers are willing to work and now they have a clear vision as to wear they will go, he added.
Petroleum sector
Looking at the petroleum sector, Minister Trotman said that the Exxon discovery is major one that will benefit "generations for years to come". This has resulted in increased interest from other petroleum companies and the Coalition Government intends to see that Guyanese benefit. "We will be looking at local content. Making sure there are sufficient Guyanese involved that are trained. There are scholarships, working on the service side. We want more local involvement… We want to know there are petroleum engineers, boat captains and we have environmental specialists and we have the people who supply the chicken and the greens and the water. At every level, we have got to do some work".
The coming year will see a closer partnership with the Business Ministry as government seeks to unveil the opportunities for Guyanese. The President of Exxon/ Mobil is also scheduled to visit Guyana for talks with President David Granger and government officials, the Minister revealed. "The fact that Exxon is the largest company in the world tells you that there is something special here. We are working on that and we hoping that we can closer and closer to production."
Forestry
Forestry is in the process of being reformed and despite the speculations about the "Asians or Chinese cutting" Minister Trotman said that Guyana's deforestation rates rank among the lowest in the world. The overall aim for the forestry sector is to ensure that this sector is sustainably managed, he said. Meetings are scheduled with all of the small logging associations as well as larger ones. He cited Barama as one company that Government will be meeting with to renegotiate the terms of the concessions in 2016. "We will look back at the last 25 years to see what is on the cards going forward and we hope to work with small loggers to facilitate access to land for them, and of course markets".
Governance
The issue of Governance, which Minister Trotman also holds responsibility for, is an all- encompassing area and he described gains in this as "little steps" thus far.
The soon to be held Local Government Elections, he said are "very critical to good governance". The recently published "Code of Conduct" for Ministers will also guide officials, he added. Parliamentary Sittings will be more regular and the Coalition Government's legislative agenda will be pushed, even as there is a move now to less of a "top down" approach to managing communities and their affairs, the Minister noted.
It is a process, Minister Trotman emphasised, and noted that "What we inherited looked bad from the outside. It was worse when we got in. It is taking far longer to turn some things around and there are the issues of mismanagement. There are issues of corruption. There are issues of just bad governance". He added there will be institutional change, "Sometimes you can't force people. Sometimes you have to bend them slowly. It is process of bringing them around. The process of starting the Procurement Commission has started. We are resuscitating the Integrity Commission. We are putting some emphasis on the transformation, all of those are on process for 2016."
In closing, Minister Trotman described his portfolio as "challenging but sweet as there is a purpose to it and a sense of change. We believe that 2015 was more a foundational year. After the few months we had in government, we know that the honeymoon is over. We have been getting our fair share of the criticism, as well as the praise so 2016 will the year where I think we buckle down and get into our different areas of responsibility".